Last weekend we went to Brussels. Me, Daniel, my parents, my brother and his girlfriend. It was really nice, despite the bad weather. I had to be in a wheelchair cause I wasn't allowed to stress my ankle too much after my accident 2 weeks ago. Daniel was so sweet, he pushed my wheelchair all weekend with great care. Here are some photos:
Me reading the newspaper
We went on a guided tourbus which was really crappy, we couldn't hear anything the guide was saying but it was nice riding on a bus for a while.
Daniel trying out my wheelchair.
Me in the wheelchair and my assistants.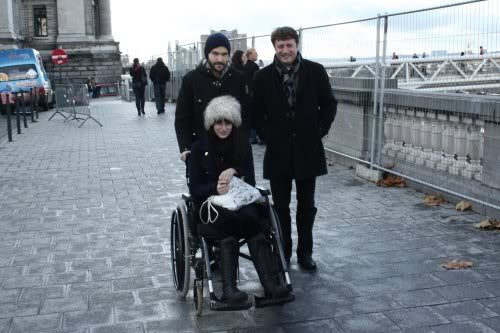 Papa and a naked woman.
My beautiful tiny boyfriend in a museum.
Mummy feet. Yuchhhh.
Dead person.
A tower.
Kriek; cherry beer!! So good. Tastes like candy but not too much.
The bed was so huge and comfy.
Me doing tv-morning excersises.
Lamp in hotel
Atomium! But we couldn't go in cause of my wheelchair.
On monday we went to Grizzly Bear and St Vincent. So amazing.